Last weekend, General Liam Lynch was remembered at events including commemoration parades and exhibitions in Cork and Tipperary marking 100 years since the revered leader was shot in the Civil War.
Thousands of people attended the commemorations, according to reports in the Examiner and elsewhere, and one marching band, wearing saffron and green, attracted particular attention, having travelled 11,000 miles from Argentina to take part.
More than a million Argentinians claim Irish descent, and in the early years of the 20th century a strong Irish-Argentine community even had its own newspaper, The Southern Cross, whose editor was one William Bulfin who had been born in Co Offaly.
William's son, Eamon Bulfin, who was born in Buenos Aires in 1892, attended Pádraig Mac Piarais's school, Scoil Éanna (or St Enda's), and studied at UCD where he became captain of the Irish Volunteer Company at the university.
During the Easter Rising of 1916, he raised the tricolour and the green flag with the words 'Irish Republic' on the roof of the GPO after it had been seized by the rebels. Bulfin was deported to Argentina after the Rising, his execution commuted because of his Argentinian citizenship.
Since then, Irish-Argentinians have celebrated their links to Ireland and to its patriots, and the Eamonn Bulfin Legacy Pipe Band was formed in Buenos Aires – with all of the musicians of Irish descent.
The organiser for the participation of the marching bands in the events of the last week, Tomás Mac Cormaic, said that in total 12 marching pipe bands had taken part in parades to commemorate Liam Lynch and other historical figures, with 3 from the U.S. and of course, the Argentinian contingent.
On Easter Saturday, the bands had taken part in a parade to commemorate the Easter Rising in Cork, marching from Tomás Mac Curtain's home in Blackpool to the Fenian National Monument in the Grand Parade.
"Thousands lined the route of the march in Cork, which was a great affirmation  for the marching bands, and they thought it was fantastic. Likewise in Fermoy on Easter Sunday, it was very moving for the musicians to see the huge turnout and the deep appreciation and esteem for Liam Lynch and for those who were honouring him," he said.
"For some of the musicians, it's likely the trip of a lifetime, and the Argentinian band has made huge sacrifices to get here, as their economy is not doing well at the moment," he said. They have set up a go fund me page to cover the costs and we're hoping people can help with the cost."
He said the bands had been playing 'non-stop' since they arrived, as evidenced by this video shot by Independent Councillor for Tipperary, Máirín McGrath.
100 years ago today, General Liam Lynch lay wounded in this pub having been shot by Free State troops during the Civil War – as we come to the end of Centenary Commemoration weekend for Lynch it was amazing to watch this Argentinian PipeBand perform here with local musicians 🇮🇪 pic.twitter.com/HkcXqbgCpR

— Máirín McGrath (@MawMcGrath) April 10, 2023
"The marching bands were all excellent, and added vitality and colour to the commemorations," Mac Cormaic said. Representing Irish-America were the County Cork Pipe Band New York, and
Local pipe bands — including the Cullen Pipe Band, Newmarket Pipe Band, Liam Lynch Pipe Band, Anglesborough, Thomas Davis Pipe Band, Mallow, Millstreet Pipe Band, and the Ballingeary Pipe Band — also took part.
Historian Gerard Shannon, who has written a new book on General Liam Lynch said that the famed leader's father was a Fenian, while his mother was in the Ladies Land League. His godmother, Hanna Cleary, a distant cousin, was also a strong influence and lent Lynch books on Ireland's revolutionary history.
Working in Fermoy in 1916, a 23-year-old Lynch watched in dismay as local Volunteers, the four Kent brothers from Castlelyons home, were dragged bleeding through the garrison town, with Thomas Kent subsequently executed at Victoria Barracks.
A year later, Lynch wrote the words for which he is most well remembered: 'We have declared for an Irish Republic and will not live under any other law.'
By April 1921, he was made commandant of the First Southern Division of the IRA, in command of approximately 31,000 men.
The Fermoy parade on Easter Sunday began at Michael Fitzgerald memorial at the spot where Lynch had led a famed arms raid against British soldiers, one of many major actions for which he built his reputation in the War of Independence. Fitzgerald was a dear friend of Lynch's and he had died on hunger strike during the War of Independence.
Gerard Shannon said of Lynch that: "It's truly remarkable he became such a gifted guerrilla commander despite no formal soldiering experience. He was in many ways the exemplary Irish Volunteer."
"Contemporaries noted frequently how Lynch went up and down his battalion and later, brigade area, and got to know each Volunteer and held meetings where he listened to their suggestions," he told the Examiner.
Addressing the packed graveyard in Fermoy, Tralee historian Tim Horgan of the National Graves Association, said that the memory of Lynch, who as Chief of Staff of the anti-Treaty IRA was killed died after being ambushed by Free State soldiers, had been under attack for political purposes since his death.
Mr Horgan said Lynch, a man of principle, could never betray his colleagues, living and dead.
"To surrender would have been to recant, to renounce those principles, a tacit agreement that there had been justice in the punishments inflicted by the British and the Free Staters on those thousands of patriots who had suffered in Ireland's cause."
On January 11, 1922 Lynch had signed a letter from IRA officers to Richard Mulcahy rejecting the approval the Treaty. He added a hand-written note asking Mulcahy: "what am I to do with thousands of men who sacrificed everything during the war?'"
Three months later he was shot and lay dying in the Knockmealdown Mountains. At first, the Free State soldiers on seeing the tall bespectacled man thought they had captured was de Valera, but Lynch told them: "I am Liam Lynch, Chief of Staff of the Irish Republican Army. Get me a priest and doctor. I'm dying."
He was carried down the mountain on an improvised stretcher to Nugent's Pub in Newcastle. The couch on which he lay is still preserved in the pub. He died later that day in Clonmel Hospital.
We look back 100 years to the end days of the Civil War & find out about the death in Tipperary of Liam Lynch on #RTENationwide Wednesday 5th April @RTEOne 7pm @lizgillis191623 @UCCHistory @dfarchives @TipperaryHour @TipperaryLive @Stairnahireann @HistIreHedge @shshistorydept RT pic.twitter.com/M9MKvh5cmG

— RTÉ Nationwide (@RTENationwide) April 5, 2023
Lynch's last wish was that he be buried in the Republican plot in Kilcrumper cemetery near Fermoy, beside Mick Fitzgerald, "the greatest friend I ever had on this earth".
This powerful re-enactment from John Foley's film portrays that scene; https://t.co/yn92je3v4E

— Máirín McGrath (@MawMcGrath) April 10, 2023
Gerard Shannon described Liam Lynch as "one of the most commemorated figures of the period."
"At different times of year, whether at his grave on the outskirts of Fermoy, or Newcastle village, outside his birthplace in Co. Limerick, or at the memorial tower in the Knockmealdown Mountains, he's remembered."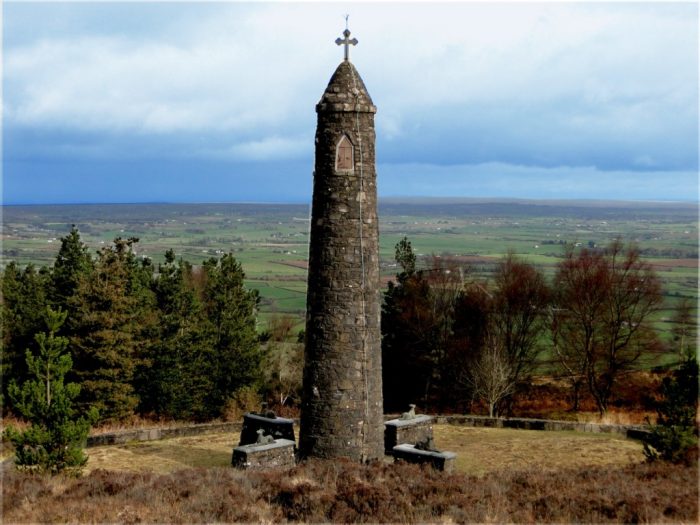 The Newcastle Liam Lynch Memorial committee has honoured the famed leader for decades, and in this centenary year organised an entire weekend of events, including public lectures, a Commemorative Mass, film screenings, public walks, and special commemorative parades in Newcastle where thousands attended.
Local TD Mattie McGrath said that: "This important event in our local history has been commemorated every year since 1935 since the establishment of a local committee to build the Liam Lynch Monument in 1934 but there is huge interest for this Centenary year."
"The fatal wounding of General Lynch on the Knockmealdowns brought the effective end to the Irish Civil War and as we approach the later stages of our decade of Centenaries it is hugely important that we recognise the significance of what occurred in Newcastle on April 10th 1923." said Deputy McGrath
He said that people had been booked in from the length and breath of the country and beyond and that a large contingent of family members of General Lynch joined the events over the Easter Weekend.
Other events in commemoration of Lynch included a special concert of traditional music in Fermoy and an exhibition of works by award-winning artist Dolores Lyne inspired by letters written by Lynch who was her grand uncle.