The number of protests nationwide against the government's handling of the immigration crisis continues to grow, as towns and communities organise against what they see as the unsustainable and unsafe imposition of migrant centres predominantly in less affluent areas or country towns.
While most national media outlets seem uninterested in covering the growing number of protests, the immigration crisis is a huge topic in many local papers, and polls show that a significant majority of people are concerned with the growing numbers arriving and think that limits should be placed on the number of asylum seekers and migrants coming to Ireland.
The sharp rise in the number of undocumented migrants has given rise to particular concern in communities, as has the decision by the Minister to press ahead with placing hundreds of arrivals into communities without consultation.
In Listowel, a second march has taken place in protest against the proposed use of the old Presentation Convent in the town into a centre for migrants and asylum seekers, citing concerns over safety, lack of services, and an existing homelessness crisis.
Proud to march with the people of Listowel today. No to undocumented/fake documented economic migrants. #ListowelSaysNo #MakeIrelandSafeAgain #IrelandIsFull pic.twitter.com/ygcPyTLKnw

— Aisling O'Connell (@AislingOConne11) February 26, 2023
A local woman told Gript that numbers were growing because "Polish, English, Lithuanian families all with the same concerns joined us, as they have children attending the schools located next to the convent building".
"The Presentation secondary school is on the grounds as the old convent building and it overlooks the girls' primary school and playground. You also have the Nano Nagle centre which is a special needs school, and a crèche up to preschool age. Next door you have St Joseph's hospital, nursing home and day centres for the elderly with dementia," she said.
She said that doctors and other service providers were already completely stretched, and that local concerns were being ignored.
In Cootehill, Co Cavan, protesters told Northern Sound radio that the 'Cavan Says No' group recently sent an open letter to Cavan County Council saying that residents were "concerned about the influx of illegal immigration into this country and how it is currently being handled".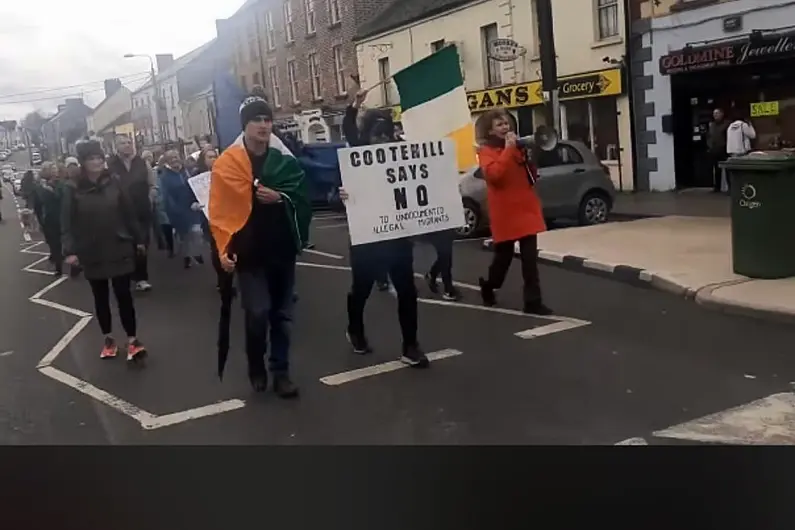 Local Councillors said that the possible use of the landmark White Horse Hotel in Cootehill would cause issue given that support services and infrastructure are already strained, the Anglo-Celt reported.
Cllr Aidan Fitzpatrick asked what the reaction might be if the same number of Irish men were deposited anywhere in the world without warning.

He said the hotel was to be used to accommodate refugees, it would result in a situation where one in five people living in the town were "not Irish".
At  the same meeting, Cllr Sarah O'Reilly of Aontú sought to ask the Minister for Justice "what steps" are being taken to reduce the asylum processing time in Ireland "considering the enormous pressure on the asylum process currently in Ireland and the burden on the State".
She said "5,000 asylum seekers" had arrived in the country "without valid travel documents" in 2022. "That's 40% of the total number of people applying for asylum. The cost of providing accommodation for one year for an asylum applicant is €18,568. The median wait time for an asylum applicant is one and a half years. This means that the cost of providing accommodation for those who provide 'false or no documentation' on their arrival is €141m," she said.
In Mullingar, an ongoing protest is now camping at Columb barracks, after hundreds of locals took part in a rally through the town organised by Stand Up Mullingar who say that the town should not be forced to do accommodate "hundreds of unvetted migrants".
Stand up Mullingar are still camping at Columb barracks, peaceful and pleasant as always.
They've been there since 12pm last Friday.
The Irish government will tell you these concerned mammies and daddies are far right Nazis that need to be silenced.#IrelandIsFull #Mullingar pic.twitter.com/WmRjEcUk6q

— DC (@DC1916_) February 27, 2023
This week, the Mullingar Topic said that people were entitled to ask how long Ireland could afford to provide shelter to huge numbers of people, and to raise concerns about "our own homeless".
In Finglas, as protests continue, locals voiced anger at attempts to discredit those who had concerns at the immigration crisis.
Artane protests continue, with locals upset in particular that building around the site of the Stardust tragedy proposed for use as migrant centres.
Great turnout tonight in Artane! #IrelandisFull pic.twitter.com/Y4jV68XzxE

— Jay (@Jaytdub90) February 27, 2023
Protesters from Ballymun and East Wall blocked the road out of Dublin Aiport at the weekend, as local leaders vowed to escalate the number of protests if the government "continued to refuse to listen".
That's how you close the border at Dublin Airport #IrelandIsFull pic.twitter.com/r5agjKeFAf

— Mark Egan 🇮🇪 (@EgoEire) February 26, 2023
Protests have sprung up in areas such as Kilkenny, Carrickmacross and Aughrim Street in Dublin where locals are said to be angered at the use of a community centre for the area to house refugees and migrants.
#Carrickmacross #Inniskeen #Monaghan #Magheracloone #Cootehill #Donaghmoyne #Eastwall #Drimnagh #Ballymun #Mullingar pic.twitter.com/fpKhoV6csO

— Michael (@Michael44980395) February 19, 2023
At one Aughrim Street protest in Dublin, one woman said she had been taken off the housing list after 20 years and that Irish families needed housing.
However, Cllr Joe Costello told the protest that he had "reassurances from Dublin City Council" that "only Ukrainians" would be housed in the centre, and asked the crowd to accept that reassurance.