Padraic McHale remembers climbing The Reek with 'thirty or forty thousand' pilgrims but says there's 'not a third of that now'.

In this interview he talks about what it's like to carry on the traditional 2,510 ft climb.
Padraic was my inspiration to climb Croagh Patrick on Reek Sunday – the last Sunday in July, the traditional pilgrimage up Ireland's Holy Mountain.
The podcast above features Padraic from Co Mayo, David from Co Tipperary, Br Bruno Mary (Dominican Order) and Sean from Dublin – all of whom climbed on Reek Sunday.
Below is an excerpt from the article 'Freaks on the Reek' – published during the week – recounting my own experience of the climb – most definitely, an Encounter with God, evident in all that stopped to chat me with me along the way.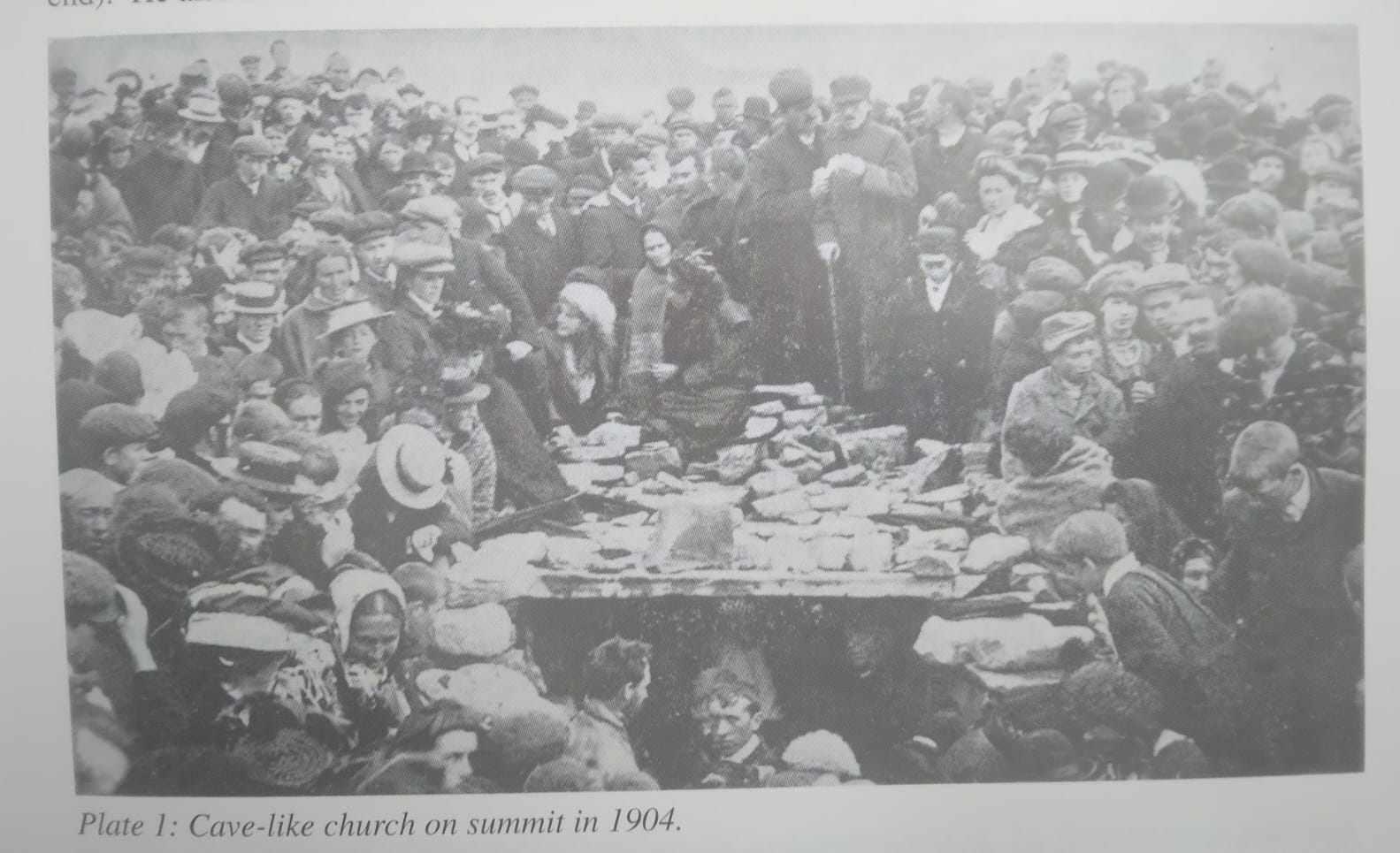 Image : Croagh Patrick, Co. Mayo : archaeology, landscape and people, by Leo Morahan
On Reek Sunday, it's after 5pm before I turn the car down the road out of Westport heading for the Barony of Murrisk, home of the Holy Mountain, known locally as The Reek..
As the road winds along the coast of Clew Bay out towards the base of Croagh Patrick, the Gardai first and then the Civil Defence pass me, heading back towards Westport. This brings a smile to my face. I take comfort in the fact they've departed the Holy Mountain. I have less and less regard, everyday now, for incessant and restrictive objections to how I live my life.
Leave Early.

Bring Water.

Wear Waterproofs.

Strong Footwear.

Bring A Stick.

Bring Sugary Snacks.

MAKE SURE YOU LEAVE EARLY.
At the mountain car park next to Campbell's Pub conditions are wet, windy, rainy, misty, cold and miserable. And yet; there's an air of achievement around. I see it on people's faces. Slightly traumatised after the physical demands but certainly and remarkably joyful.
In the toilets I find two Indian girls getting changed out of wringing wet clothes. I nab them as my first victims for the Great Microphone Experiment and we conduct an interview outside in the car park. They live in Limerick and have travelled up together to attend Holy Mass at the mountain top, which took place at 2pm. One is a Christian, the other a Hindu, each smiling sweetly while recounting the experience, while a third friend videos this spectacle on her phone.
The Hindu girl produces a Miraculous Medal she is wearing on a piece of thin blue string around her neck.
Where did she get it? Someone handed it to her on the way up to Holy Mass.
How was Holy Mass? Beautiful, less than 20 people present, amid howling wind and lashing rain at the top.
How do they feel now? Delighted to have taken part in this traditional Irish pilgrimage. Thrilled to meet so many beautiful people along the way. Tired from the physical effort. Elated in their sense of achievement.
I wish I could include for the reader the interview here, but for some reason, it hasn't recorded at all so I shove the microphone into a plastic bag to protect it from the rain and figure I should get moving.
I run back to the car where my sister put a fancy hill walking stick some years ago and I am examining it when I spot The Man from Kilmaley.
He is taking his hazel stick out of a jeep when I shout over, are you going up?
Yes he says. Is that your stick?
Yes I say, handing it to him dubiously as we move off together.
Well that's useless altogether he proclaims, and I'm inclined to agree until he examines it a little closer before snapping it open and doubling it's length. Then he pops it off the ground a few times to test its durability before handing it back to me and declaring, ah no, it's not so bad at all, in fact.
The Man from Kilmaley is taking giant strides up the steps towards the statue of St Patrick that marks the beginning of the rocky path and I'm thinking, I'll never keep up. I meet a friend from Corofin and exchange hugs and she urges me off before I lose 'my companion' and I scurry along but he's already disappeared.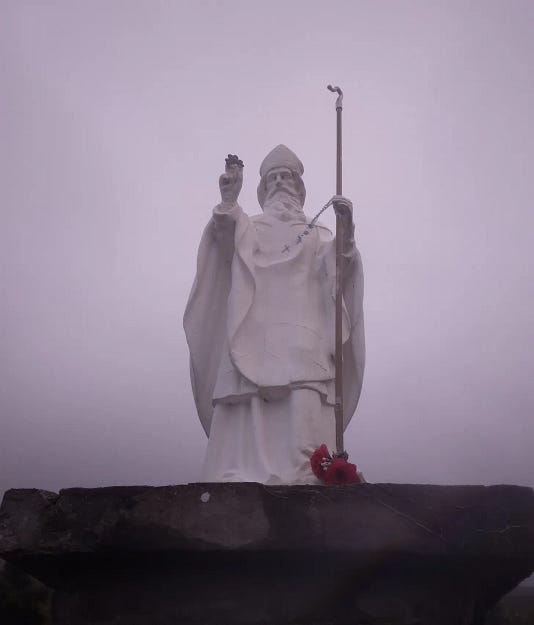 Left to my own devices, I stop to pray with St Patrick, take off my shoes, re brandish the microphone and do a couple more interviews. I meet Sean, from Dublin who is smiling in a way that you used see people all loved up on drugs in nightclubs in the days of my youth. He didn't know if he was looking for something spiritual but appears to have had quite a powerful experience.
I meet David the Christian from Tipperary who tells me there's no need for me to be climbing in my bare feet because I am already saved by the Shed Blood of Christ.
I meet Brother Bruno Mary, who exclaims 'God Bless You!' when he sees my exposed toes and stops to tell me his pilgrimage is a prayer for priestly vocations.
It's past 6pm by the time I get done chatting to people so I put away the microphone and begin the ascent in earnest. The rain is much lighter now than earlier, by all accounts. Several people have told me already that conditions today are the worst they have ever experienced.
I rattle out some hello's to the sheep and let the sound of the rushing river wash the world from my soul and move now into rhythm with nature. The rain from above has thinned out to just a spattering but the sideways rain is soaking my hair and my clothes.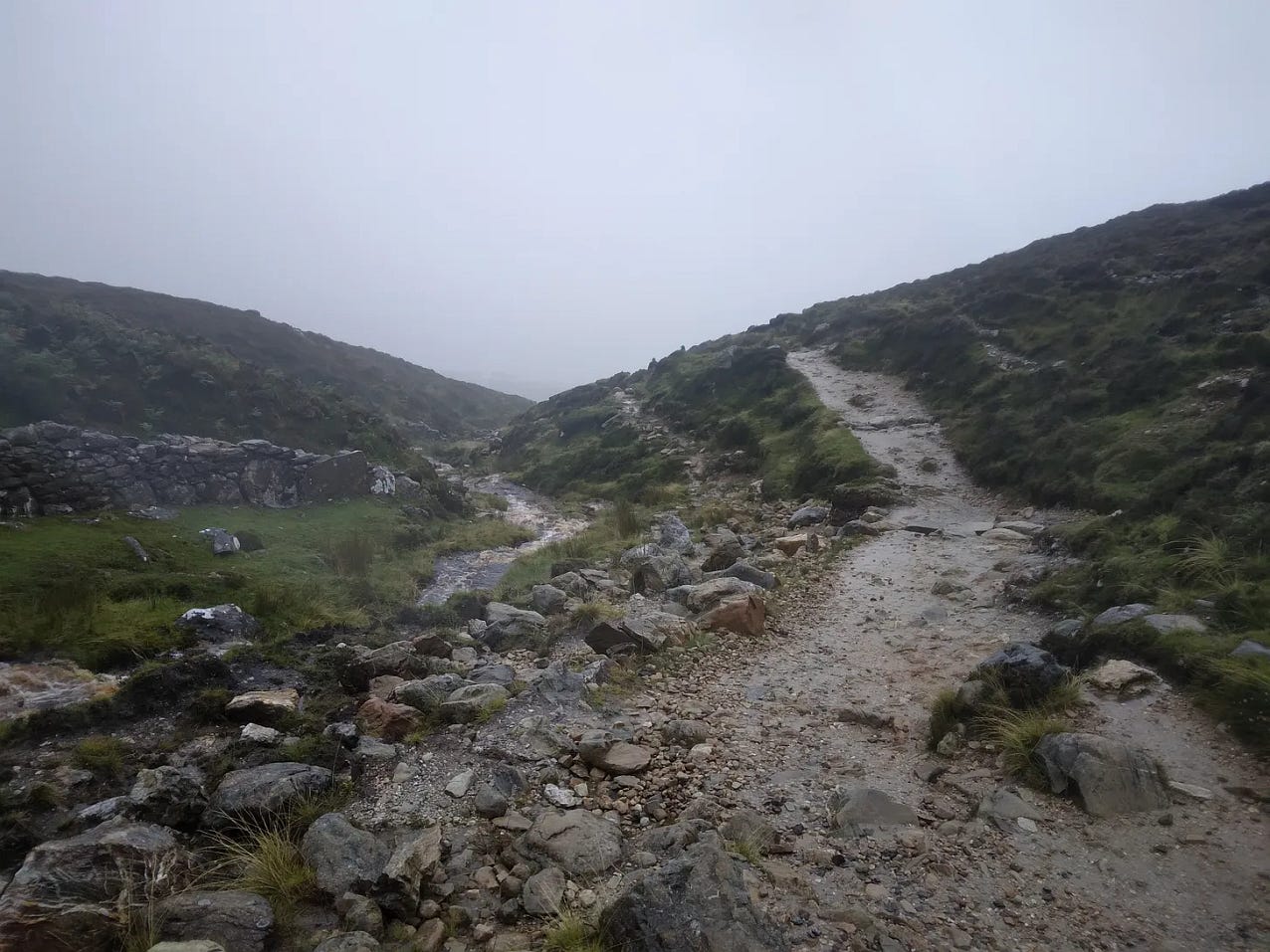 The last of the late pilgrims are trickling down the mountain path.
A farmer in his forties comes every year because it's special to him but he's got to get back his car first, then drive back to Athlone and then out to the parlour to milk the cows.
Further up, a man from Co Tyrone is coming down, the wind whipping his rain soaked poncho. He is gingerly picking safe spots to place his tormented feet and his words match his face, this is a level of torture he was not expecting. He's fit and healthy and perhaps in his fifties. He's walked the Camino and loved it and met lots of wonderful people but at this juncture, he is looking all but defeated and he too, must change out of his soaking clothes and drive all the way back to Tyrone. How was it then? I ask, wondering it there's a word he can find to describe his experience and he delivers in spades by declaring it 'liminal,' before removing and clearing the rain from his glasses and wishing me a safe trip to the top.
Next I see a couple coming hand in hand down the path towards me and I can't help but think, how romantic is this. They stop to chat and he pronounces much advice for me in his beautiful Mayo accent and she interjects where she can. He's from Swinford and tells me the numbers are well down on previous years and sure people aren't all that interested any more and the conditions further up are atrocious but they're glad they did it and despite being drowned wet they look perfectly happy to me. Many above? I enquire and he says there's just the few now. One is an old man that looks 'like he won't make it to the top never mind down again.'
Up; on up, I check behind me every once in a while to see if I am to be the last pilgrim to scale Croagh Patrick on Reek Sunday this year. Coming down there's a man bouncing along with plenty of energy in him yet and where are you from anyway? This is the first question everyone asks on The Reek because of course we are tribal and ever curious.
I'm from Clare he says. Ah go way I say where in Clare, not Kilshanny?
Yes Kilshanny he says and it turns out he grew up across the fields from my cottage and knows exactly where I live and is inquiring for my friend Patsy who's bike he helped fix in Kilfenora one day. What are the chances? I make him pose for a selfie when I spot, what's this behind us? Only another pilgrim barely visible in the mist and wind and rain but moving purposefully up towards us.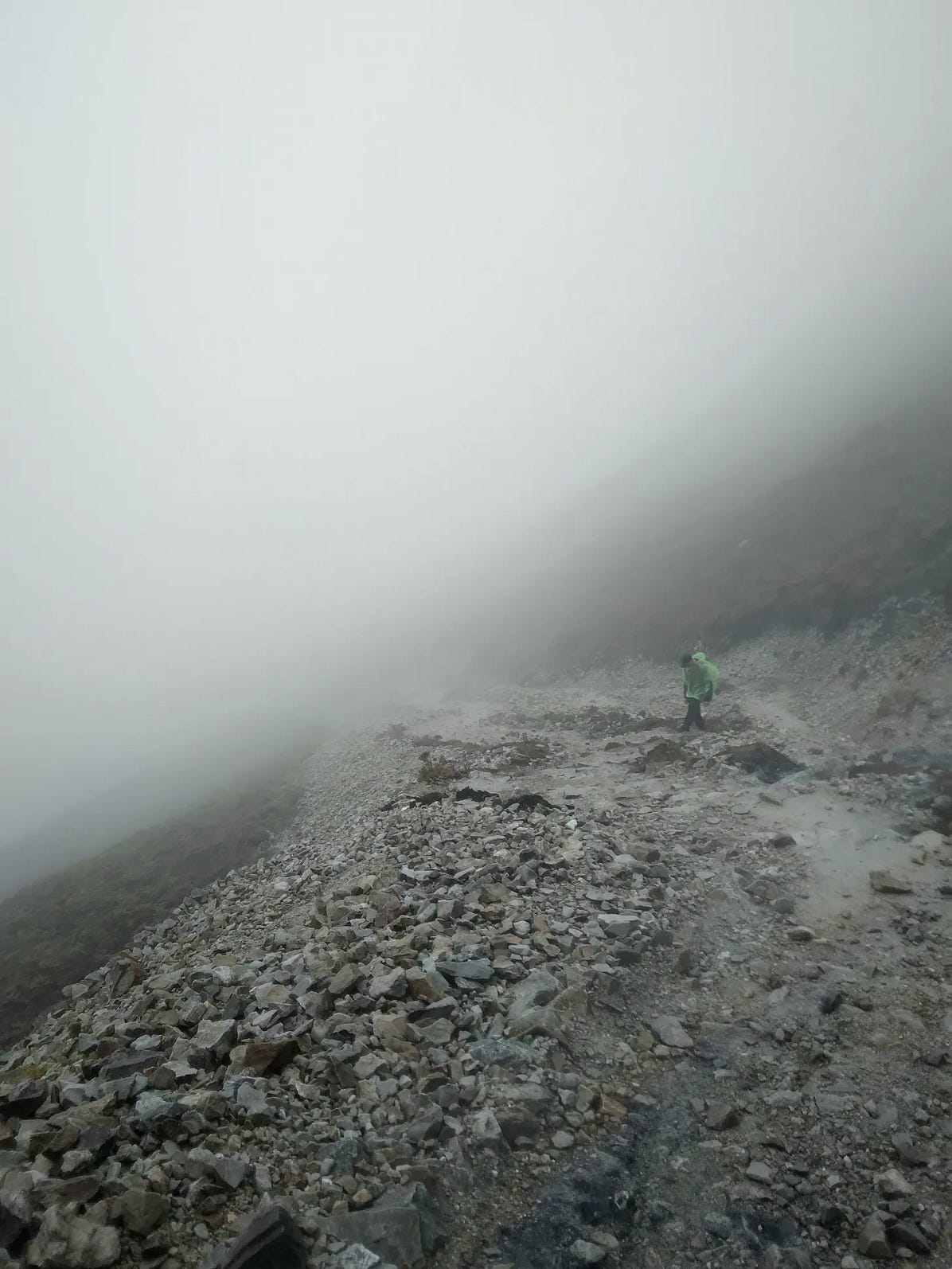 I'm keen to latch onto this stranger but dawdle again a little too long chatting to The Man from Kilshanny and the Last Man up the Mountain has taken our picture and continued on up by the time I get moving again.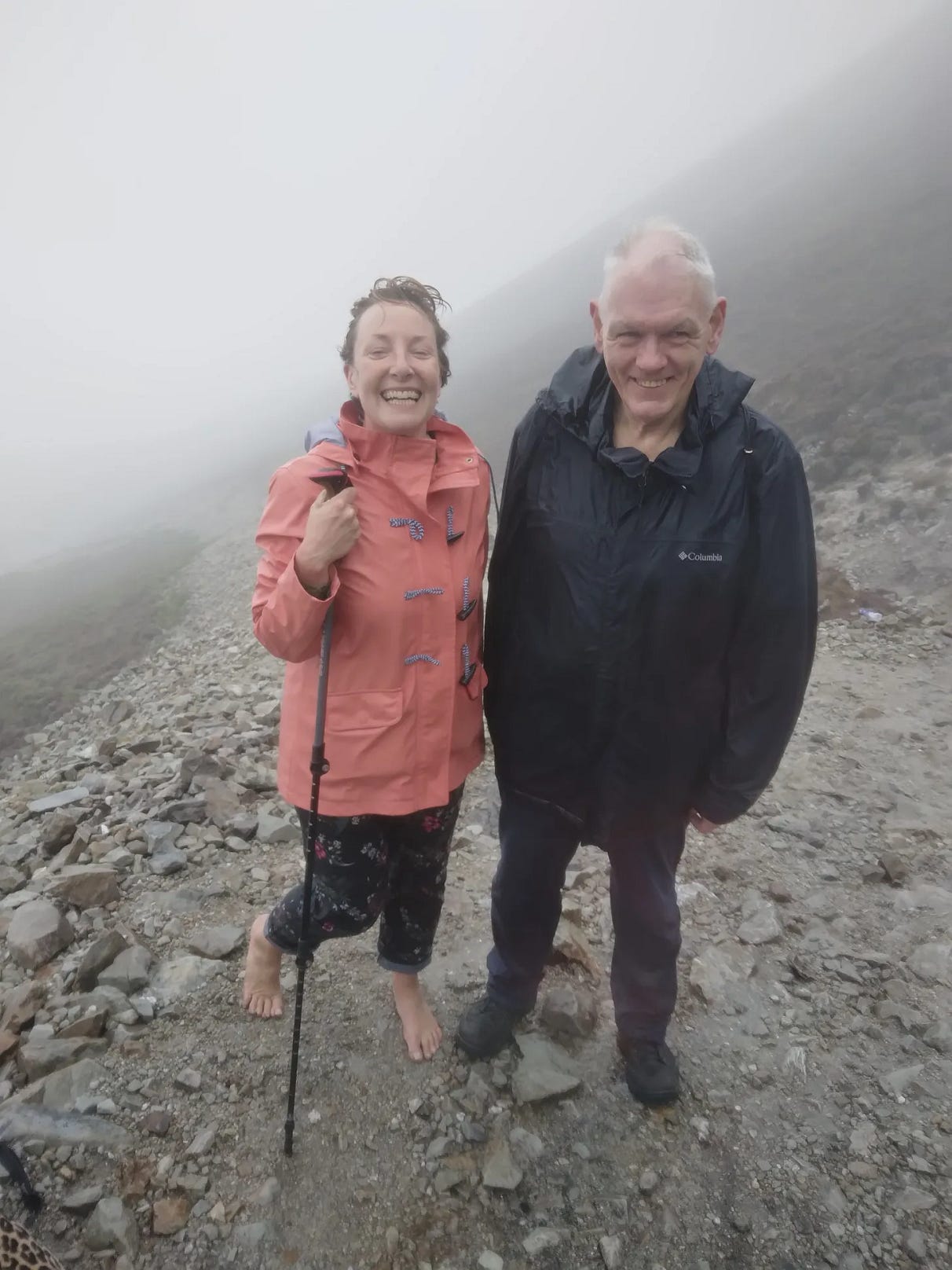 Now it's just me and the elements and things are getting a little more challenging, I take out my Rosary and pray the Glorious Mysteries for Our Lady. The Bare Feet experiment is an offering to her that she might lighten the load for another, someone suffering under the weight of grief, loss, illness, anxiety or any other burden. Part of my pilgrimage promise is not to complain but and I actually I find this quite incredulous – I have absolutely no cause to be whingeing.
There's a little white church at the top of Croagh Patrick that can be seen from far off on a sunny day. Today you can't see 20 feet away never mind the top of the mountain so I haven't a clue really, where I am. I suspect I must be at least two thirds up, since I've passed the site of the dramatic upturning of the handbag, the Devil's Hollow and rounded onto the mountain proper and the incline is dramatically more steep. There's a howling wind at this juncture, curling up from the back side of the mountain and with it a pounding rain and now I begin the Sorrowful Mysteries, the story of Christ's Crucifixion and am thinking well, however bad this is, at least I am not being Scourged at a Pillar.
Into sight comes the next descending pilgrim and I am intrigued then, to meet The Man from Killaloe. What makes me cry out altogether is when he tells me I am only a third of the way up. No way! I exclaim. There's no way!
Yes, he insists, you have a ways to go and you better get moving or you'll be coming down in the dark.
Up on up through the pelting rain, picking spots to place my feet on the rocks. Where they are not jagged and sharp they are smooth and slippy. Then there's the wind that wants to blow me clean off my feet altogether and I love it. It is all so exhilarating.
Now coming down toward me is another Mayo Man and we chat about adventures at the Halfway House in Islandeady and covid and the countryman's duty to break silly rules.. He tells me he isn't doing this for any spiritual reason but is envious of those who believe.
Why? I inquire and he looks off out over the Sheeffry hills towards Lough Mask and shakes his head the tiniest bit and says, oh I don't know, it would be nice to believe in something. I'm not sure why this makes me a little sad. Go on up now, keep going and don't whatever you do, stay talking as long to anyone else as long as you have to me! He instructs.
Up on up and low and behold there's an older man that I haven't met yet descending against me and we exchange a couple of words, he's smiling and encouraging me on with a word of warning not to delay too long at the top.
Some distance further who do I meet only The Man from Kilmaley, last seen hoofing up the mountain from the car park and here he is, having summitted and already on his way down.. Many up there? I enquire. Only some religious freak praying, he says before he spots the Rosary in my hand and stops himself saying more and I get the giggles. He's genuinely concerned however, that I have left it too late and sternly warns me that getting to the top tonight might not be a good idea, the light will be starting to fade soon and it'll be downright dangerous to come down in the dark.
Okay I say and continue on, resigned now to the fact that I might not make it after all.
Up, up and up I just want to see past this corner and maybe the next one and all of a sudden the path widens and flattens out and I can't believe it. This is it. The rain and the wind are circular now, whipping tiny tornadoes around the summit. Through the mist the little white chapel comes into view and beside it, a solitary figure.
It's the man that passed me earlier – the 'religious freak.' We laugh and exchange soggy introductions. He takes my picture and I take his arm and we begin the descent together, until he tells me, quite firmly, to put on my shoes now. I put the shoes on and Oh My! The Luxury! And we practically bounce back down the mountain, he telling me of his current disposition, discerning to be a priest and I in awe of the type of character you might meet seeking encounters with God on Reek Sunday. Not far from the top we meet a lad from Castlebar, who climbs The Reek every week, on his way up and his expert goat-like feet have him passing us again on his way down and so we have the immense pleasure of descending all by ourselves, sharing similar stories of being taken by the scruff of the neck you could say, and being thrown firmly into living our faith, as if this wasn't our plan at all in fact, but a prepared construct of some Higher Power.